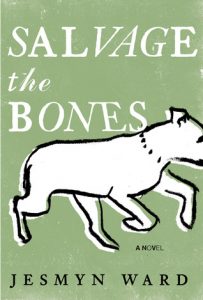 Salvage the Bones
---
Jesmyn Ward is a new author for me. Her writing is poetic but still engages me on a similar level as the plain, Scandinavian style I favor. She is a show-don't-tell hero.
Esch, the narrator, remains a closed book. Good choice — she is 14, from a closeknit but extremely poor Mississippi household w/ a drunken, pitiful father. It would be unusual for anyone at that age to be very self aware, much less someone with so many things to run away from.
It's wild to be waiting for Katrina the whole time. (That's really the only thing I knew in advance — it was a book about Hurricane Katrina.) No matter what happens to the family, it's looming in the background as a tragedy in waiting.
---