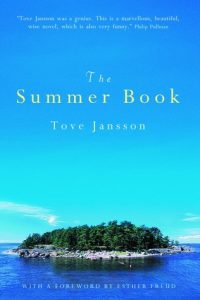 The Summer Book
---
I found this book breathtakingly beautiful. It's a book of vignettes about a family who spends summers alone on a tiny sub-Arctic island. It's about time, cycles, aging, living, dying, and nature. How you write a book so obviously about those things that's not silly or trite, I don't know, but Tove Jansson did it. Lovely book. Here are a few quotes I marked, w/ their chapter titles:
Moonlight
ONE TIME IN APRIL THERE WAS A FULL MOON, and the sea was covered with ice. Sophia woke up and remembered that they had come back to the island and that she had a bed to herself because her mother was dead.
The Magic Forest
Grandmother sat in the magic forest and carved outlandish animals. She cut them from branches and driftwood and gave them paws and faces, but she only hinted at what they looked like and never made them too distinct. They retained their wooden souls, and the curve of their backs and legs had the enigmatic shape of growth itself and remained a part of the decaying forest.
---
Grandmother worked only in old wood that had already found its form.
---
They started gathering bones together along the shore.
Gathering is peculiar, because you see nothing but what you're looking for. If you're picking raspberries, you see only what's red, and if you're looking for bones you see only the white.
The Scolder
"It's not necessary," Grandmother said. "The tide will come in and he'll bury himself. Seabirds are supposed to be buried at sea, like sailors."
They walked on and talked about burial at sea, and the long-tails sang in dyads and triads, farther and farther away.
The Neighbour
There was no dock, only a big bank of gravel. In the middle of the gravel was a large sign with black letters that said PRIVATE PROPERTY – NO TRESPASSING.
"We'll go ashore," Grandmother said. She was very angry. Sophia looked frightened. "There's a big difference," her grandmother explained. "No well-bred person goes ashore on someone else's island when there's no one home. But if they put up a sign, then you do it anyway, because it's a slap in the face."
"Naturally," Sophia said, increasing her knowledge of life considerably. They tied up to the sign.
---
Malander had an idea and was trying to work it out, but it would take him time. Sometimes people never saw things clearly until it was too late and they no longer had the strength to start again. Or else they forgot their idea along the way and didn't even realise that they had forgotten.
The Visitor
She started thinking about all the euphemisms for death, all the anxious taboos that had always fascinated her. It was too bad you could never have an intelligent discussion on the subject. People were either too young or too old, or else they didn't have time.
---